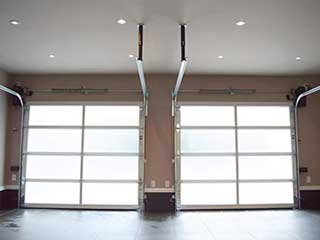 Even if you take the best care of your garage door, the springs will break at a certain point. With good maintenance, that can be later rather than sooner, but there will come a time when you'll need garage door springs replaced. With such strong devices, carrying a lot of tension in their coils, it's important to exercise caution. After all, mishandling broken spring replacement can cause serious injuries if you're not careful. To prevent these accidents and avoid the potential dangers, Garage Door Repair Winter Springs offers nearby areas same-day spring replacement solutions.
When Your Garage Door Springs Will Break
Essentially, each of these devices has an estimated lifespan according to its build, size, and coil strength. Garage door spring lifespan is measured in cycles, ranging from thousands to tens of thousands. Each cycle stands for a single opening action of the garage door. Therefore, the more you use the door, the shorter your springs will last. Naturally, even if you use it a lot every day, your Winter Springs garage door springs will still hold for a couple of years at least, if not much longer.
Winter Springs Garage Door Spring Replacement Service Specialists
When you do experience a malfunction with these parts, remember to let a professional technician take care of the replacement. The reason broken spring replacement is best left to experts is the dangers that installing these devices creates. You see, there's a large amount of tension in the coils of garage door springs. When replacing them, the new springs become loaded with tension and can snap if loaded incorrectly. These strong steel coils can injure someone when they break, should they fly off or whip across the garage. Leaving the job to the nearest garage door spring repairmen near Winter Springs will ensure you don't put yourself at risk of injury.
Call For Urgent Broken Spring Repairs
Whenever you need help with such problems, remember you've got help nearby available every day. Garage Door Repair Winter Springs's spring replacement services offer emergency solutions to all local residences and other close-by areas. Our broken spring repairs come cheap and quick, giving you the fast solution you need on the same day you need it. Get in touch with us by phone or online to get help today!