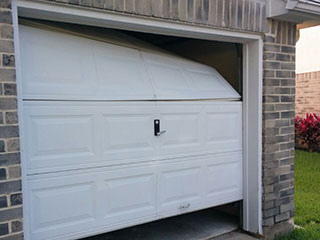 People often don't realize what they have until it's gone – and garage doors are no different! Playing an essential role in our daily lives, their importance is rarely noted until something goes wrong. We've compiled a list of the most common problems experienced by homeowners, as well as some simple measures to fix it.
Door Coming Off Its Hinges

With metal tracks controlling the movement of your door, misalignment issues can cause serious (and dangerous) problems. If your door is capable of movement, then it is possible to remedy the issue by loosening the screws that hold the track to the frame. By gently tapping the garage door track with a rubber mallet, you can move it back into position before retightening the screws. However, if the door won't move at all, then this definitely isn't a problem you should be tackling yourself! For safe realignment, professional help will need to be called in.

Closing with a Bang!

Garage doors are far from light, hence creating a considerable amount of noise when unexpectedly dropping to the ground. If your door has self-closed with a thud, or won't open despite the opener being fully functional, there's a high chance that you're facing broken springs. Attempting to fix this issue is highly dangerous, so it's important that you do not attempt to replace them yourself! It is much safer and more efficient to leave these door repairs to the professionals.

A Door with a Mind of Its Own

Garage doors randomly opening and closing can indicate a range of problems- most of them fairly simple to resolve! Sometimes the remote has become wedged between car seats, or a neighbor possesses the same model and is accidentally interfering with yours. If this isn't the case, however, then the issue most likely lies with your opener. A replacement opener will need to be sourced and installed by a local expert.

Exceptionally Loud When Opening/Closing

A reasonable amount of noise is to be expected when working with garages, but obnoxious grinding and screeching doesn't have to be tolerated! More often than not this is caused by debris that can easily be removed from the tracks. Otherwise, a light application of lube to hinges, roller bearings, and springs is advisable. This can be performed independently, but professionals are available for lubrication maintenance to ensure the job is done properly.